Description
WE HAVE SOLD OUT! 😱
300 copies on limited edition transparent purple vinyl and a Die-cut sleeve! Slide out your booklet and watch the colours flutter through the die-cut album title, and in the inner booklet check out a bunch of cool film-images shot by Audrey Gillespie of the band while recording.
It features the latest singles "Glimmer", "Drag", "Aubergines" and "Moonsoake", all recorded in an abandoned Portuguese warehouse with Bill Ryder-Jones in late 2019/2020 – and any copies ordered here on our website will be from the original first pressing under our own "Madame Mazu" Label, which was pressed just before we signed a deal with Fierce Panda! The majority of label copies are available from Fierce Panda's online store, click here for more info.
We will try to ship within 24hrs of each order, but it can be a bit slower on weekends!
The Story:
We supported Alice in Chains in 2019 on the Irish leg of their world tour, while promoting our debut EP "Sugar" in 2019 (on limited edition green vinyl). Right after a summer of UK/IRL shows we hauled a whole recording studio from Belfast to an abandoned warehouse in central Portugal in September 2019, where we built a studio out of anything we could beg & borrow to record our debut record with Bill Ryder-Jones!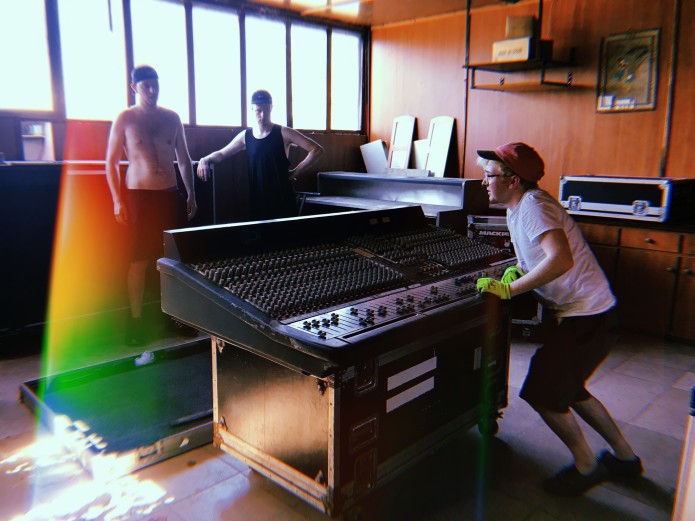 Installing the desk into the old cantina/kitchen of the (now abandoned) pool table factory
The Factory was a closed down facility built to manufacture billiard tables. The band has a close friend who owns a house near it, and when joking with the idea of us going to the house and writing/recording an album, he asked his neighbour did he mind about the noise. His neighbour said "why not use my empty factory?" So we did. We love you Dave + Joanne & Jeronimo + The Batista Family.
Mike Hanvey (our live sound guy) drove everything down from Belfast (over 1700 miles each way!). We took artist and photographer Audrey Gillespie to shoot photos on 35mm film, Ethan Owens to look after guitars and backline and Matty filmed a documentary of the entire process!
We basically used the offices and outbuildings as a live room and control room, with bizarre spaces like weird sheds and chicken coops as reverb chambers, guitar speaker cab rooms and vocal booths. We used old Pool Tables as sound reflection panels and old insulation to block up windows!
To get it off the ground, we had some financial help with travel from Help Musicians and The NI Arts council, but that only made a small dent in the whole project's travel etc, which the rest we had up until now self-funded from our live shows and merch sales. Now that its almost ready to release (and that the rest of our shows for the year are cancelled due to the lockdown!) we are relying on offering up some pre-orders to help us get the world to hear!!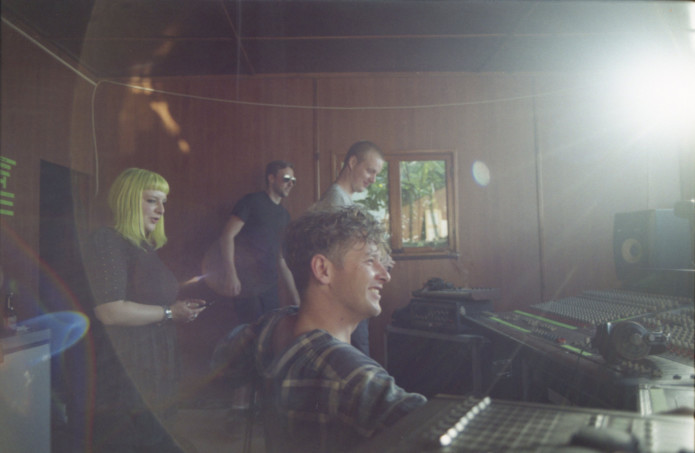 First session with Bill Ryder-Jones, sessions which spanned around 10 long, dizzying days. Another 14 with our Live sound guy Mike Hanvey, after Bill headed home to tour the UK/EUR.
We tracked the album across around 3 weeks. Due to sooo many factors, some final vocal sessions were delayed and were completed back home in Belfast. (with some stuff being finished at home even right up as far as lockdown in isolation from each other! more on that story TBA!) But the important thing is we made it home alive and the tracks sound WICKED. The record is currently being mixed by a couple of GREAT and amazing human beings (to be announced shortly), and its finally time to get the last push we need to complete it!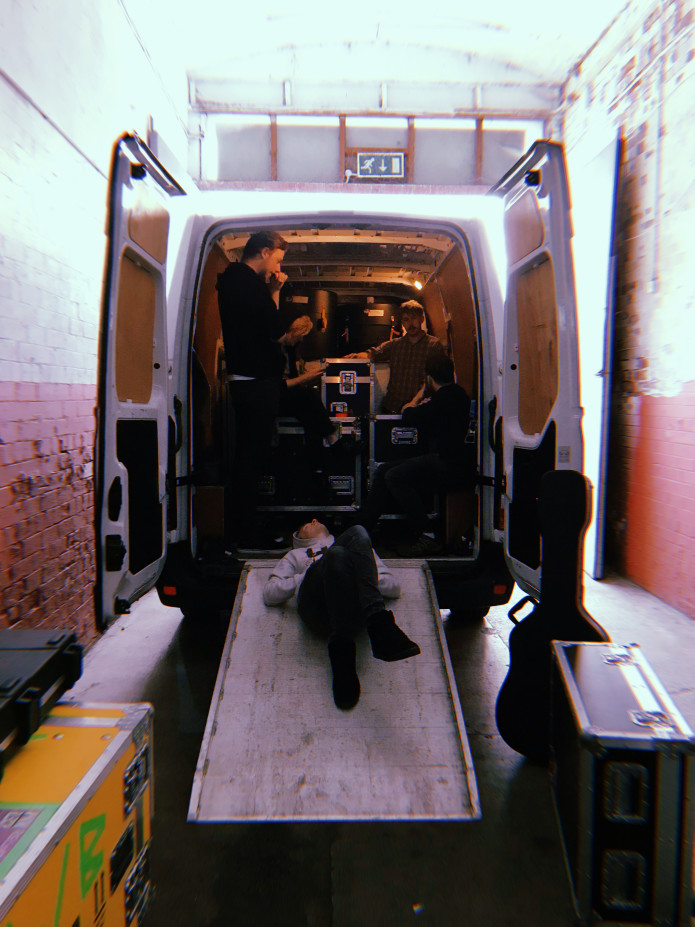 Multiple test packs occurred to make a whole studio fit in a regular van, that was illegally overweight over 1700 miles to Rural Portugal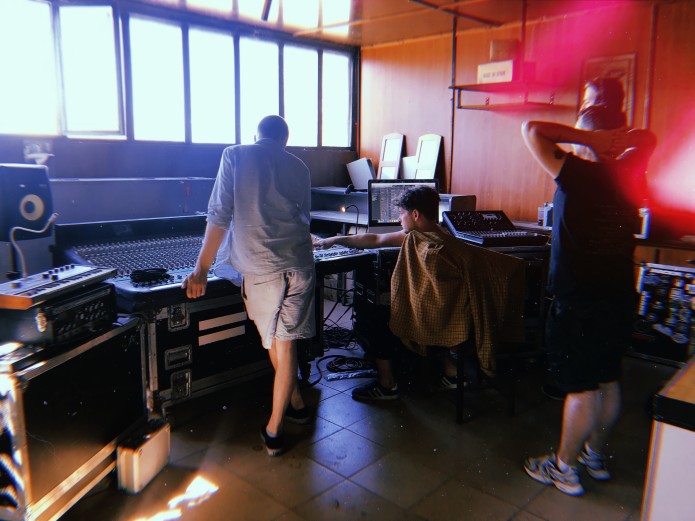 Matty, Bill, Mike and Carl nearing completion of the record. We had found an old freezer that still worked (left of picture) which became a place to crawl into after immensely sweaty tracking sessions.
The Impact you will make on a pre-order or donation:
Like almost everyone in the music industry, the Coronavirus pandemic caused us to all lose our only source of income (music) and put the brakes on all of our planned mix sessions to complete the record. This constant pushing back of our hopeful release date has really taken its toll on our brains.
So, any funds we hoped to receive from booked live shows around the UK along with the merchandise sales at these shows have now gone, and any funds we have left have had to be used to keep us afloat during this time with absolutely no income 🙁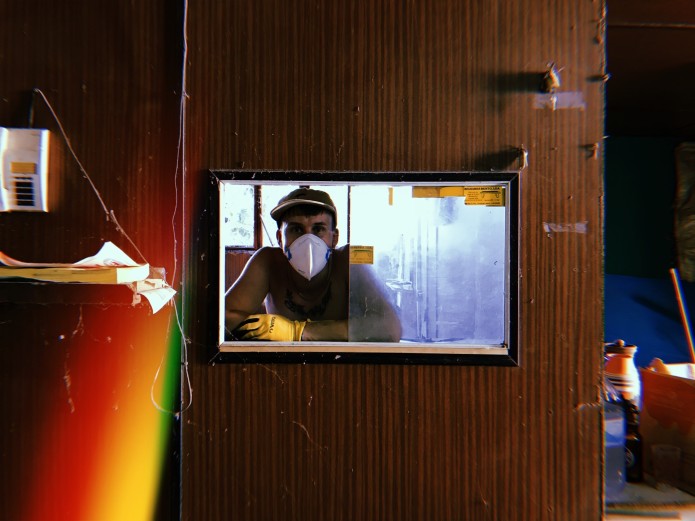 Aaron pictured from inside an old office window at the factory. Originally going to be a vocal booth, we jammed it full of insulation we found to help deaden the main room instead.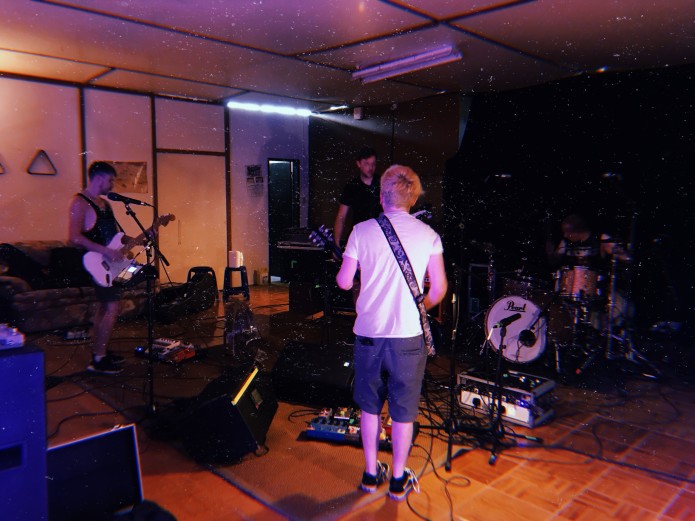 First session in the live room. Sunlight coming through ceiling joins which was essentially a big wooden room built inside a warehouse. There were multiple  iterations of this room through the first week of setup before Bill Ryder-Jones arrived to begin tracking.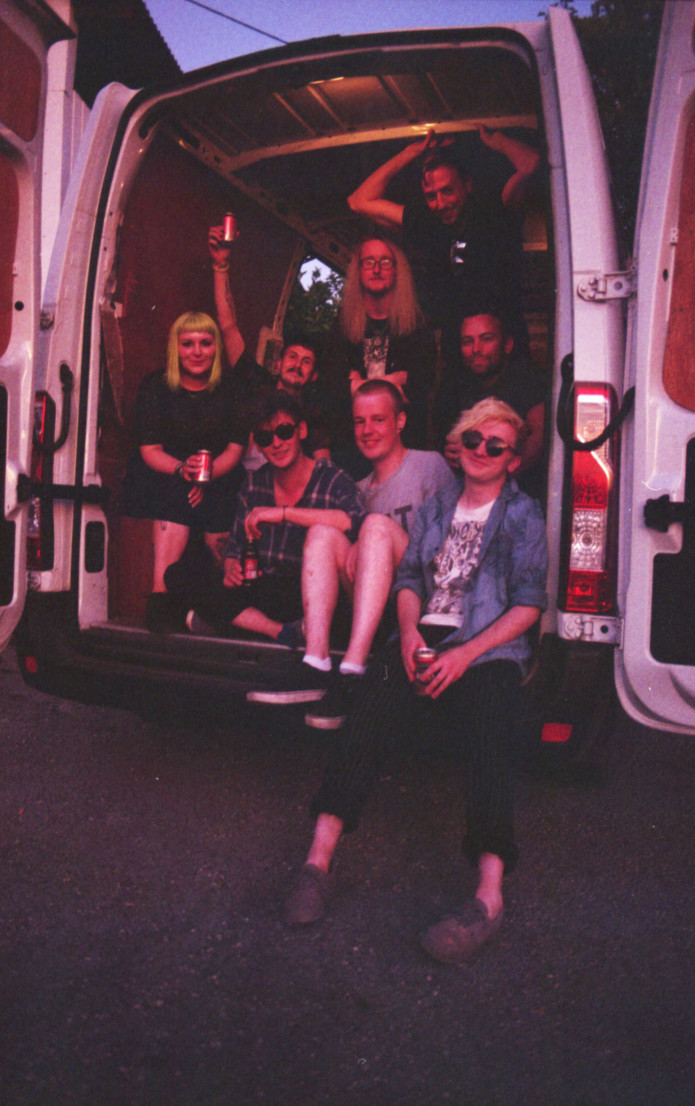 The end of tracking at the end of September 2019. Pictured are the crew who made the record happen. Wynona Bleach with Bill Ryder Jones, Mike Hanvey (WB's Live Sound Engineer) & Ethan Owens (Backline/Guitar Tech). Not pictured, Audrey Gillespie who photographed the sessions on 35mm Film, all photos above are credited to!
Incredibly, 4 tracks from the album were mixed by Andy Bradfield and Avril Mackintosh, two highly respected, amazing mix engineers responsible for working with Manic St. Preachers, Bjork, Marillion, Roger Waters, even The Spice Girls (in particular our favourite tune, 2 Become 1!). This amazing chance to work with them came from a chance meeting in feb 2021, when Jonny was smuggled into a prestigious awards ceremony in london, where he met Avril and immediately hit it off. They have made really incredible and special moments on the record.
The rest of the album was mixed by Jonny and long time collaborator and Belfast-based mastering engineer Jon Moorehead and was mixed lockdown of 2020.
Thank you for reading and supporting us on this weird and wild journey. Be safe in this strange and historic time and much love from us to you!
WBx
—
Tracklist:
1. Drag
2. Glimmer
3. Lights
4. Amigo
5. Hollow
6. For Real
7. Moonsoake
8. Graffiti
9. Aubergines
10. Flesh
11. Drippy
12. Blue Jean