Wynona Bleach – Moonsoake (EPK) – Released 2022 on Fierce Panda Records.
Videos
Album Art
Click artwork to get full resolution!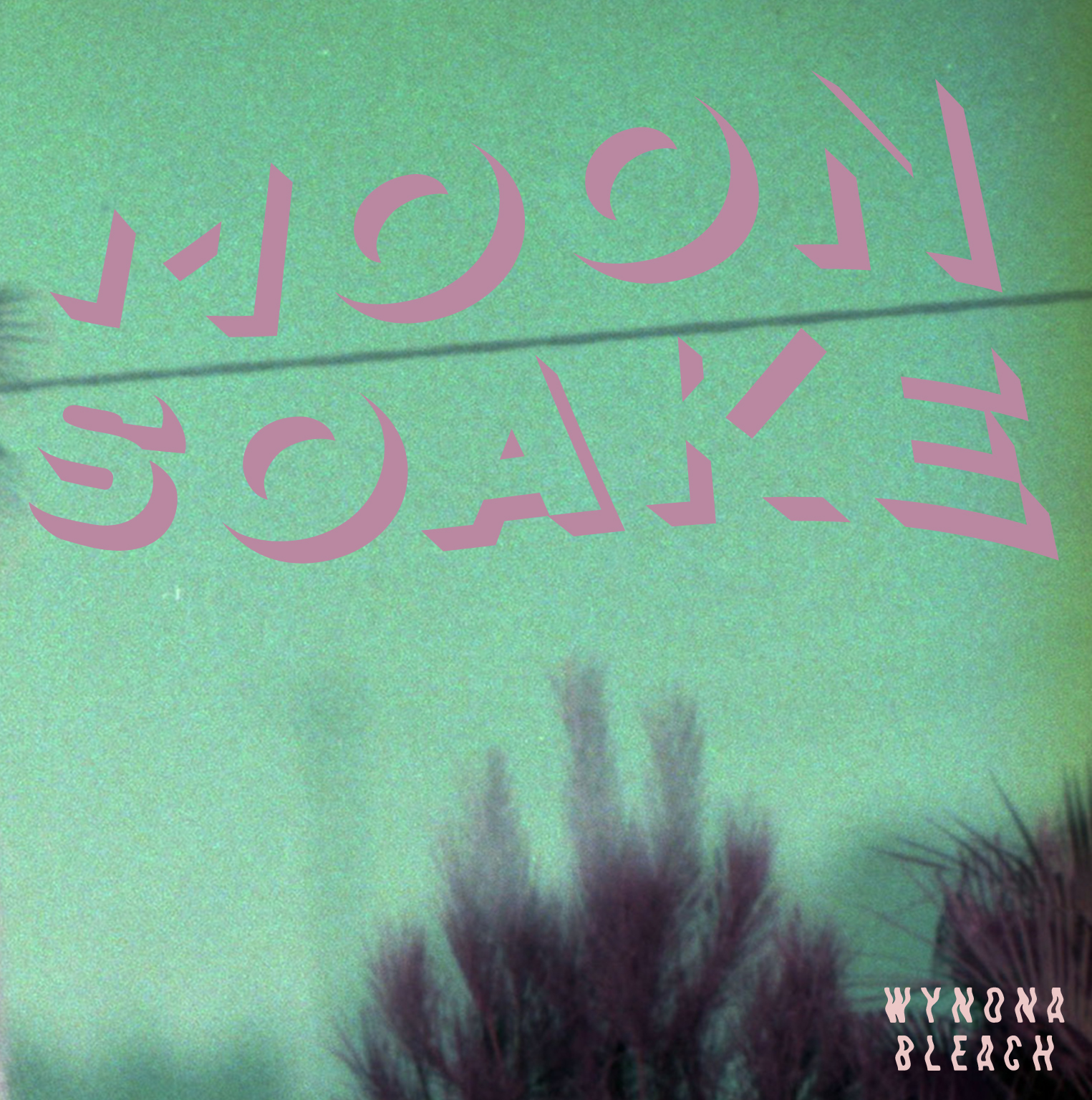 Press Photos
Click image to to obtain full resolutions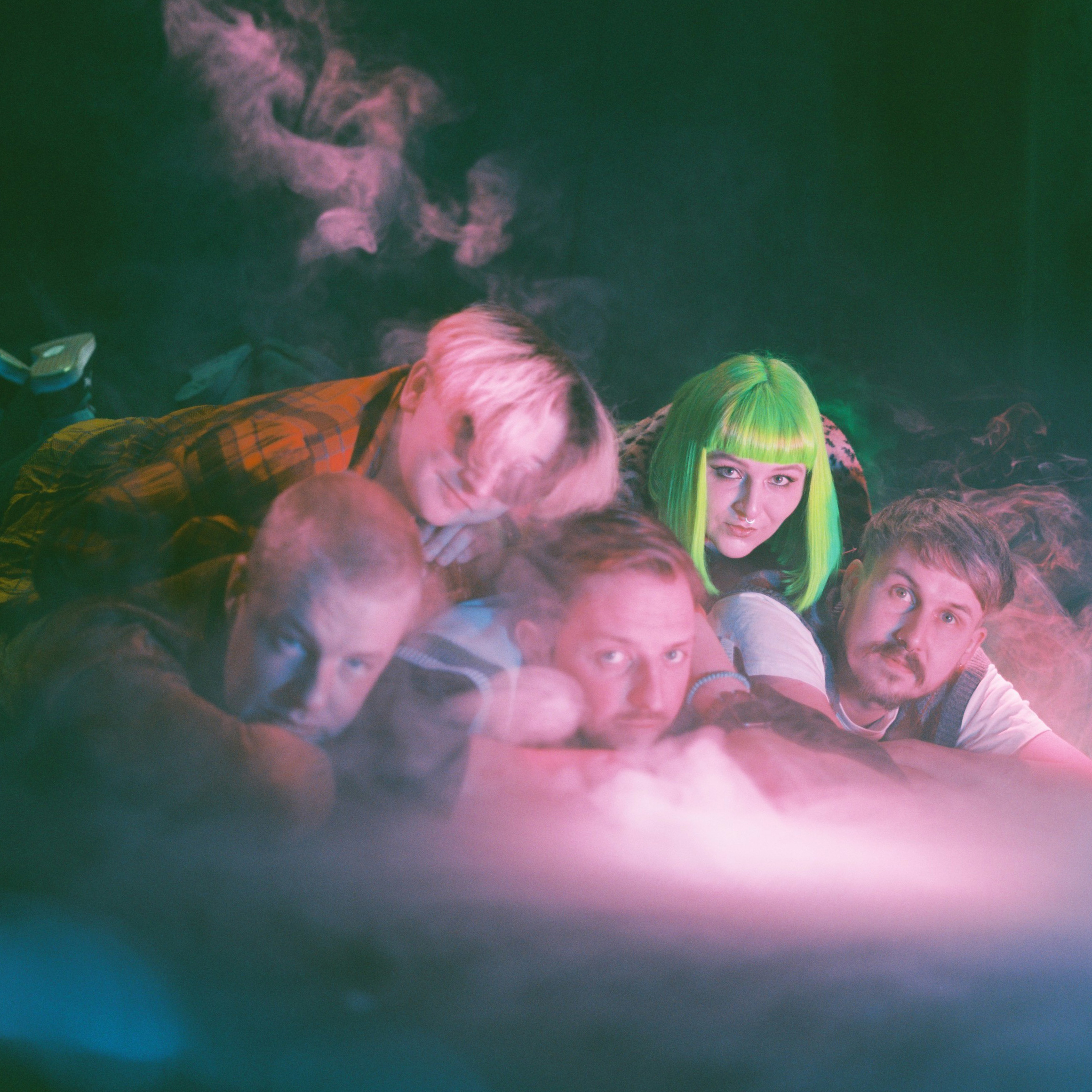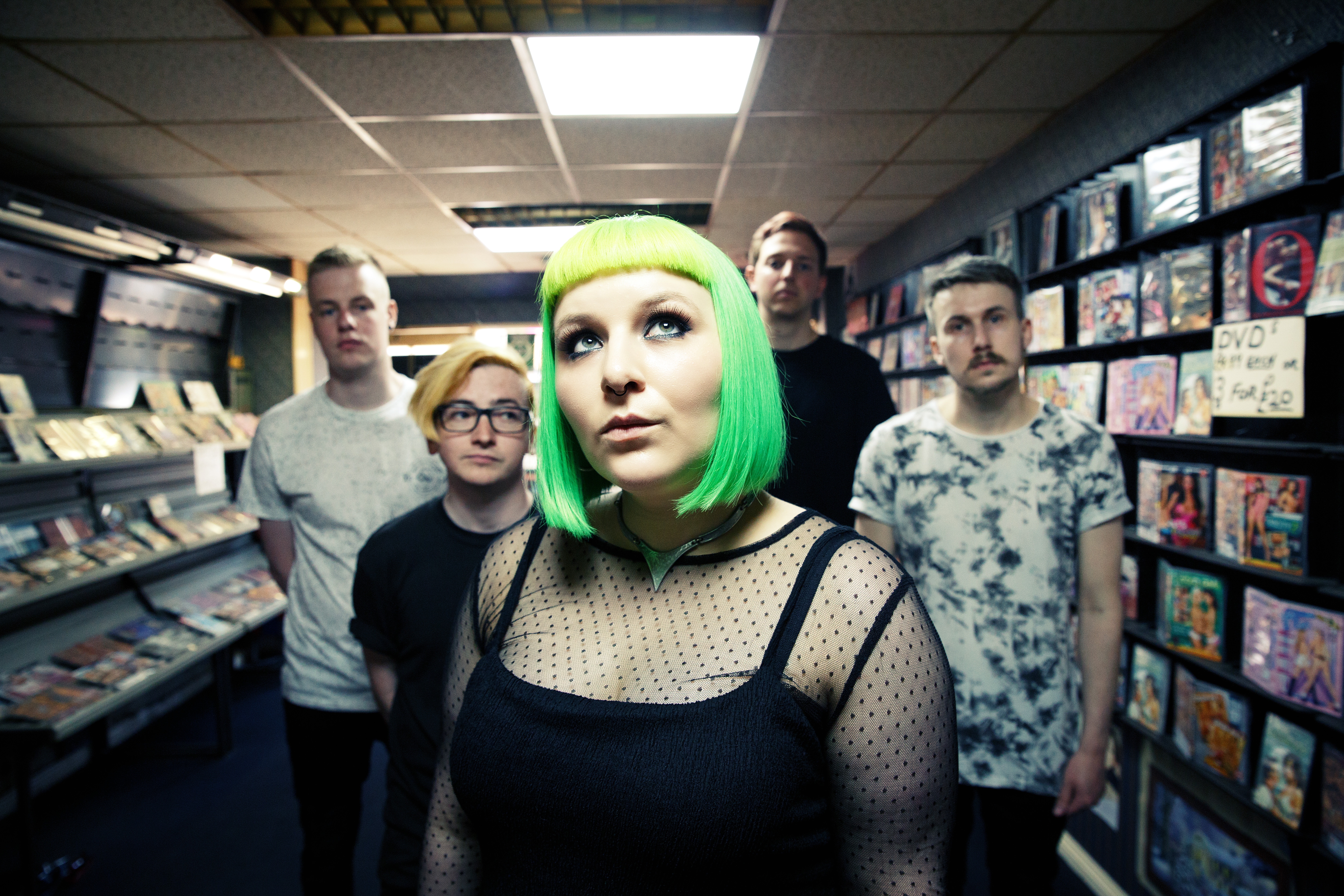 Bio
Melyssa Shannon: Vocals
Jonny Woods: Guitar / Vocals
Aaron Black: Guitar
Matt Killen: Drums
Carl Gilmore: Bass
 Wynona Bleach formed in 2018 in Belfast, NI with their first single "Eyes burning". They released their debut EP "Sugar" in August 2019 and made a number of live session appearances on BBC Radio as well as generating viral, word of mouth airplay through BBC 6 Music, BBC Introducing, Amazing Radio, KXLU (Los Angeles) and Seattle's own seminal radio station, KEXP in the USA. 
Under their former name, they self-released critically acclaimed EP's such as "Pillow Talk" and "NO CHILL" and embarked on a 12 date headline Russian tour covering 6500 miles.
"The guitars rise up like fuzz-mountains and the melodies are strangely sweet.  It's a rich combination, and the critic who invented the term 'gaze-pop' may be onto something." says the legendary Stuart Bailie.
They are no strangers to big shows, performing at Reading and Leeds Festivals, a televised Belfast Ulster Hall show with SOAK, The Divine Comedy and Therapy? which celebrated 30 years of BBC Introducing in NI. Prior to this, they supported Feeder, The Slow Reader's Club, Lonely the Brave and their biggest shows to date: being personally invited to support the mighty Alice In Chains for two sold-out 1600 capacity venues in May 2019, in Dublin's Olympia Theatre and Belfast's Telegraph Building.
Following these Alice in Chains shows, The band hauled an entire studio 1,400 miles from Belfast to a valley in rural, central Portugal where they lived and worked in an abandoned factory creating their debut album, Moonsoake. With glorious indie alternative rock tunes reminiscent of acts such as The Smashing Pumpkins, Curve, The Joy Formidable and Wolf Alice, their biggest release to date was co-produced by Bill Ryder-Jones (co-founder of The Coral) and Wynona Bleach.
"Bill has been a heroic songwriter for us across his solo career.  We have too many engineer savvy peeps in our band and wanted primarily a songwriter to team up with us.  His musical style, vision and insight are exactly what the band needs right now."
The album features tracks mixed by Grammy nominated Andy Bradfield and Avril Mackintosh who have had extensive careers working alongside artists including Manic Street Preachers, Tori Amos, Bjork and Rufus Wainwright amongst others. This was thanks to a chance encounter after Wynona Bleach's guitarist Jonny Woods was smuggled into a prestige music industry awards ceremony in london, 2020. They clicked immediately, and worked on mixing tracks from the debut during the first covid lockdowns.
To fund the first vinyl pressing of their album they ran a successful crowd funding campaign whilst the record was being mixed. Their campaign reached 140% of their original goal within the first week, coming close to selling out before signing their record deal in August 2021.
Subsequently, in August 2021 Wynona Bleach signed with legendary Indie label Fierce Panda Records (Placebo, Supergrass, Ash, Coldplay) ahead of the release of this long-awaited debut album "Moonsoake". 
Since its release, the album has seen amazing support from National radio such as Steve Lamacq on BBC6Music, BBC Radio Ulster, Dublin's Today FM, 91x and a myriad of US college radio including KLXU, KEXP, WNYC, KXSC, 91x, DKFM, KDVS 90.3 and more (listed below). The albums lead single "Drag" has been featured on multiple Spotify Editorial Playlists and the entire album has amassed over 50,000 streams since its release.
Throughout 2022 the band toured the UK and Ireland relentlessly, completing a 10 date tour covering all major cities in the UK and Ireland, culminating in two appearances at Other Voices Festival 2022. They will go onward into 2023 by playing on multiple showcases at SXSW Festival 2023
Label Press Releases:
Official Fierce Panda Press Release on "Moonsoake"
QUOTES:
"I am loving the energy on these tracks, going to be massive" – Gemma Bradley, BBC Introducing/Radio 1/Across The Line
"Beautiful, exciting and lush" – Huw Stephens
"The guitars rise up like fuzz-mountains and the melodies are strangely sweet. It's a rich combination, and the critic who invented the term 'gaze-pop' may be onto something. Wynona Bleach is the excellent new friend you've been waiting for." – Stuart Bailie, BBC/ex-NME
"Lead single 'Glimmer' is a gorgeous sliver of distorted feel-good alt-pop, all searing-yet-bouncy guitar and thumping bass 'n' drums stunningly capped by Melyssa Shannon's killer vocal take." – Alex Holmes, A&R Factory
"Loud and energetic, they easily dominate the venue. Putting their own rocking twist on Bjork's "Play Dead", they set the bar high for the bands who will follow. With strong guitar riffs and sparingly used vocal effects …really do have their own unique sound" – Gigging NI
"Having witnessed Wynona Bleach's history from R51's early Pavilion shows to rip-roaring festival sets … (the) band that have absolutely nailed their sound. – Chordblossom
"[An] uncanny ability to combine grungy, shoegazey, FX-pedal molested indie rock with super poppy hooks/melodies and the strikingly angelic vocals of frontwoman Melyssa Shannon.[…] having caught them playing a show in a freezing cold alleyway down the side of Central Library on Culture Night, I can confirm that the band sound just as good in the flesh as on vinyl." – Noise Annoys (The Irish News)
"Their new songs are soaring, surprising and various. Like the best acts, they play with a near-telepathic grace. 'Sugar EP' is the story of the dedication that has brought them thus far. If this is what these kids do, they should do more of it!" – XS Noize
National/International Airplay
BBC Radio Ulster (playlist, interview and sessions)
Radio 1:
Phil Taggart Show
Huw Stephens
Further support from the Annie Mac Show.
BBC Radio 6 Music:
Steve Lamacq
Tom Robinson Show
Tom Robinson – BBC Introducing Mixtape
Dublin 98fm
Today FM
Dublin South FM (New Vibrations Radio Show)
91x
Q Radio
Amazing Radio – Charlie Ashcroft's Audition
KEXP, Seattle's Alternative
89.9FM KXLU Los Angeles
(This is a Non exhaustive, non updated list, please contact for more info or check WARM reports for full list of instances)
** British Airways onboard playlist "NextGenBFS" **
Contact: